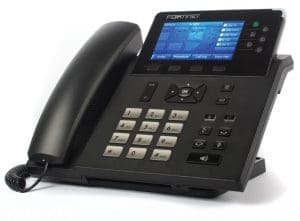 Businesses are always looking for new communication and collaboration solutions to improve employee productivity and support growth. A modern phone system is a good place to start.
Today's business has the option of Voice over Internet Protocol (VoIP) and a number of virtual systems with various calling features, collaboration solutions and network integration tools wrapped in. But what do you actually need?
It's a Growing Market
The 2016 Small and Medium Business Communication, Collaboration and Mobility Study found 53% of small businesses use VoIP now, and 16% plan to add it this year. It found 68% of medium-sized companies use VoIP and 10% will put it in place within 12 months.
Consider also the growth in SIP. Session Initiation Protocol supports real-time services for video, messaging, voice, automatic callbacks and message-waiting indicators. Eastern Management Group surveyed IT managers on the Global SIP Market and found in 2016, the SMB customer (11-50 Seats) reported that 55% of all network traffic was SIP. In 2020, 71% of traffic is expected to be SIP.
Modern phone technologies are used by SMBs to improve agility, mobility and responsiveness. But because these systems rely on internet connections, they're also vulnerable to cybersecurity risks like phishing attacks, malware downloaded to computers via the phone software and service theft, among others.
A Starting Place
Xiologix can help companies refine their phone choices. Start by considering the following questions:
What kind of system do you need? On-site or in the cloud? Not every provider offers both.
What is your price range? Understand exactly the service costs, installation fees and taxes you'll be paying.
How reliable is it? Research the provider's uptime, the number of data centers it uses and the carriers it works with. Your company is smaller and more flexible than the big guys – you require a phone system that works at all times.
Is it easy to use? The phrase "online portal" could be enough to scare your team from using the system. Make sure navigation is intuitive.
Can everyone use it? Everyone who uses company data and phones and email should be able to tap into the system's online portal. Make sure features like instant messaging and video chats are accessible to all users.
Does it support mobility? Today's workers expect mobile apps and other mobile options. Make sure the platform meets your staff's needs.
What features do you need? Make a list of must-have features to narrow down your list of options such as auto attendants, dial-by-name directory, ring groups, call cascades and more.
What level of support you need? If you're a very small business, a vendor that is on call seven days a week is best; if you need live chat or email, make sure your vendor can accommodate your work style – not the other way around.
Is it secure? If you're in the cloud, your calls and data need to be protected by encryption, secure data centers, strong authorization protocols and an incident response plan, among other security measures.
There's a lot to consider when choosing a phone system. Xiologix can help you select a communication solution that gives you the flexibility, mobility and security your business needs to succeed. Contact us.