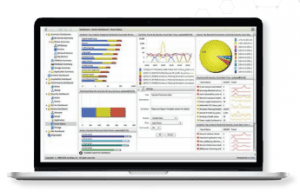 Organizations implement security information and event management systems (SIEMs) for a variety of reasons [Read "4 Reasons to Build SIEM into Your Security Platform"], from protecting data against increasingly sophisticated threats to improving compliance in complex regulatory environments. But while the use cases are clear, choosing the right SIEM to deliver on them isn't as straightforward. To ensure your SIEM can support your organization today and tomorrow, it's wise to focus on four key attributes.
Gartner reports that SIEM is the fastest growing segment of the security software market, with total revenues rising 15.8% in just the past year. With so many vendors clamoring for market share, it can be difficult to cut through the noise and focus on the features and attributes that are most critical to a successful SIEM implementation. The best SIEMs today offer:
Real-time discovery and event correlation: Networks are constantly changing. The best SIEMs offer real-time automated discovery of both devices and applications, across all segments, whether physical, virtual, on-premises or in the cloud. They also normalize and correlate data from disparate, distributed devices and applications to automatically recognize and alert on anomalies in real time.
Advanced user and entity behavior analytics (EUBA): As networks change and users obtain new addresses via DHCP or VPN, it becomes increasingly difficult to correlate network identity (IP, MAC address) with user identity (log name, role, etc.). The best SIEMs can automatically map identities – across user, network and location — to more accurately identify end-users, track behaviors, detect external and insider threats, and mitigate them quickly and efficiently. While some SIEM products act as mere log tools, seek a SIEM that can act on threats reducing or eliminating lag time between detection and mitigation.
Machine learning: With SIEM, too much data can be just as bad as not enough. The best SIEMs incorporate machine-learning and cognitive techniques to help staffers sift through reams of data across structured and unstructured databases, to develop a clear picture of the environment and quickly surface potential issues or threats. Without these capabilities, a SIEM's value quickly diminishes as staffers become mired in managing data inputs and rules, inevitably missing the "big picture."
Threat intelligence: Understanding the internal environment is one thing. Mapping that knowledge to external threats is where the SIEM rubber meets the road. The best SIEMs can take in a variety of threat feeds from many sources, parse them quickly and correlate them with internal data sources to expose real threats in real time.
Choose Fortinet FortiSIEM
Our partner Fortinet's industry-leading FortiSIEM provides these key attributes and more. It delivers the comprehensive, real-time, scalable insight you need to more tightly manage end user behavior, network security and compliance across your organization, end-to-end.
Not only does FortiSIEM provide patented real-time correlation, automated discovery and dynamic user identity mapping, but it can quickly gather and correlate structured and unstructured data and even the most complex, comprehensive threat feeds. With its single-pane-of-glass architecture, FortiSIEM ensures your staffers always have the data they need, when they need it.
A partner of Fortinet, Xiologix can help you deploy a full-featured SIEM solution tailored specifically for your environment. Learn more.